I am guest posting today over at
A Glimpse Inside
.
A big warm welcome to Allison's readers, thank you for stopping by and checking out my blog. Things are a bit sporadic right now but I am in the middle of some big projects that I can't wait to share. I have been gathering ideas and am hard at work (in between my zillion other obligations!) I would love for you to leave a comment and introduce yourself...and if you would like to follow along on my journey with me...that would just make my day!
If you are a regular reader you know that I am attempting to transform my ho hum, someone elses (bad) taste in decor house into something that I love (on a budget). I took the guest posting opportunity to share how I transformed a previously loved, but ready to retire, lamp shade into something fun and fitting for my craft room.
you can check out the guest post here....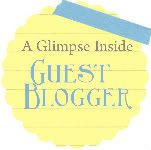 and while you are at it...please spend a few minutes checking out Allison's blog, it is full of great ideas!
have a wonderful Friday,
Tracy